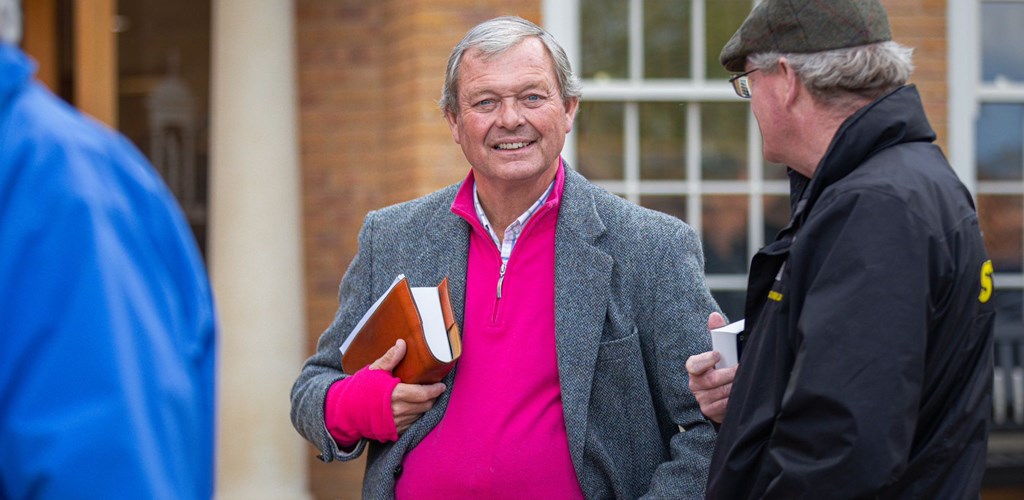 Cornelius Lysaght on our newest trainer: William Haggas
When I first knew William Haggas he wasn't called William at all – and his Somerville Lodge operation was a long way from the international powerhouse that Opulence Thoroughbreds is joining today.  
In the early 1990s 'Willie' Haggas was one of Newmarket's young training bucks; he'd not long held a licence, and was probably best known for being married to Lester Piggott's daughter, Maureen; for having captained Harrow school in the historic cricket match against Eton and for having declared the innings when himself only just short of a century, something considered a great act of sportsmanship; and for an incident while assistant to Sir Mark Prescott when he was late for work and Prescott drove to his house to provide a wake-up call – saucepan in hand – only to get the wrong room, so an innocent party felt the full effects of the trainer's wrath. 
Early on, although Bog Trotter, owned by his businessman-father Brian, finished a close second behind the subsequent Derby winner Generous in the 1990 Dewhurst Stakes, before being successful in the following season's Greenham Stakes, times were generally on the quiet side.  
I recall chatting to William and Maureen at the very end of May 1993 during a Friday evening meeting at Warwick – which then staged flat racing – when they were lamenting the fact that apart from an apprentices' claimer at Southwell that February they were without a winner all year.
Having had that conversation, it felt somehow inevitable that the corner would turn soon (you know how these things work out), and I was on at 8-1 when minutes later Absolute Magic and jockey Michael Hills took a maiden race, a result which was followed, the very next day, by an across-the-country double – but still the season came to an end with a tally of just thirteen on the board. 
And when Shaamit advertised the Haggas skills by defeating his Derby rivals in 1996 on his seasonal debut – a feat achieved on only one other occasion in the modern era, the previous year by Lammtarra – William spoke of how special the victory was because at the time the stable had only forty horses and was "chugging along fairly ordinarily". 
How dramatically things have changed. Firstly, these days 'Willie' is no longer, and anyone using the shortening will be politely if firmly corrected; there is a story, possibly apocryphal but still a good one, that it was during a night out with pals he made a conscious decision to change, to put his younger days behind him and start a new era in every sense. 
Of course, scores of thirteen remain commonplace, but for a week rather than for a whole season, and there must be something like 200 horses under the care of William, Maureen and the team at any one time.   
Since things started to take off, when numbers and quality rose from around 2000, many of racing's greatest summits have been conquered: the Oaks at Epsom with Dancing Rain, the Irish Oaks (Sea Of Class), the Eclipse (Mukhadram), the Champion Stakes and top prizes in Australia with Addeybb, and there was that majestic progress in barely fourteen months from a Leicester maiden through the Queen Elizabeth II Stakes to the International at York with Baaeed, impeccably handled to win ten of eleven career starts. 
It's a magnificent sporting story, one of skill, yes, but also of hard work and commitment, all leading to considerable success. And as it didn't come especially easily or quickly you always get the impression that the Haggases themselves appreciate it more – certainly racing as a whole does. Let's hope that some of the next chapters can involve Opulence Thoroughbreds and the two exciting yearlings that are now part of Team Haggas. Best of luck to all.   
Our recruits going to Somerville Stables